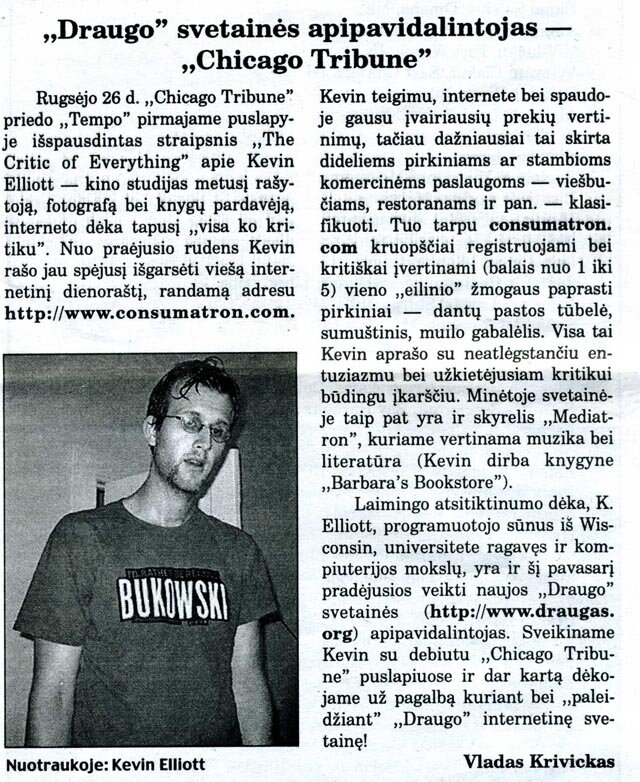 English Translation:
Thanks to Chris Hajer & Friend

Draugas's website designer—in Chicago Tribune's pages
On September 26th the Chicago Tribune Tempo section ran a front-page article entitled "The Critic of Everything" about Kevin Elliott—formerly a student of cinema, now a writer, photographer, and bookseller—who, by way of the Internet, has also become a "critic of everything." As of last fall, Kevin maintains an Internet diary which has managed to garner broader notice, at
consumatron.com
.
According to Kevin, product reviews on the Internet and in print, though numerous, are usually limited to rating big-ticket items or larger commercial enterprises—hotels, restaurants, and such. However, on consumatron.com's pages, one man's ordinary purchases are meticulously catalogued and critically rated (on a 1-5 point system), be they a tube of toothpaste, a sandwich, or a bar of soap. All of this Kevin reviews with unfailing enthusiasm and the fervor typical of hardened critics. This same website also contains a section entitled "
Mediatron
," which evaluates music and literature (Kevin works at Barbara's Bookstore).
By a lucky twist of fate, K. Elliott, son of a Wisconsin programmer, having dabbled in computer science in college, also is the designer of the new Draugas website, which debuted this past spring. Congratulations to Kevin on his own debut in the pages of the Chicago Tribune, and once again we thank him for his assistance in creating and "releasing" the Draugas website!
Vladas Krivickas
Draugas website editor